Buckinghamshire Hip and Knee Clinic
The Team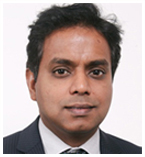 Mr Shibu Krishnan (Consultant Orthopaedic Surgeon)
Mr Shibu Krishnan is a Consultant Orthopaedic Surgeon working at the BMI Chiltern, BMI Shelburne, Wycombe and Stoke Mandeville Hospitals in Buckinghamshire. He is currently the Clinical Governance Lead (Patient Safety) for the Trauma and Orthopaedics department at the Buckinghamshire NHS Trust.He specialises in knee and hip surgery with particular interests in knee arthroscopy, innovative knee cartilage repair techniques, sports injuries of the knee, anterior…
read more
Consultant Aneasthetists:
Dr. Briand Prasad, Dr. Matthew Size, Dr. Timothy Dexter, Dr. Tahir Ali
Dr. Saurabh Ricky Nagpaul
Private Secretary – Ms. Sally Harrison
Email: shibu.krishnan@nhs.net
Apr 2, 2017
I was fortunately to be given the option of three Orthopaedic Surgeon and in my case needed to specialise in knee surgery. Mr Krishnan stood out for me initially...
Aug 1, 2016
Total Knee Replacement 11/06/2016 I would like to take this opportunity to thank Mr Krishnan and his team for the excellent care I received. I found Mr Krishnan...
Dec 22, 2015
My Experience "A Replacement Knee in 2015" I had my inner cartilages removed back in 1983 because they were worn out and after this my knees were bone on bone...
Nov 3, 2015
"Mr Krishnan has shown me exemplary concern and attention throughout the total hip replacement process. As evidenced by the very neat incision and the ex-rays taken...
Nov 3, 2015
"It is now seven weeks since my hip operation on Monday 24th March, which was an amazing Experience due to the whole procedure being absolutely pain free, and...